ProVia Windows & Doors
Your Comfort is Our Main Priority
We are Building Performance certified and offer a holistic approach to helping you maximize your home's efficiency as affordably as possible.
ProVia Window & Door Installers in St. Louis
Where Quality Meets Comfort
ProVia's extensive selection of windows and doors provides homeowners with the ability to improve their home comfort system with quality, customizable products. By combining old-world craftsmanship with modern technology, ProVia manufactures products that will stand the test of time while contributing to your overall home comfort with exceptional energy efficiency.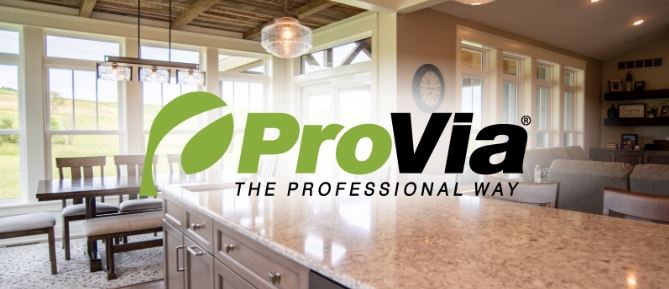 ProVia: The Professional Way
Lifetime Warranty - You can trust that when you purchase a ProVia product, you are investing in a product that will last. ProVia's production process combines innovative technology with traditional craftsmanship, resulting in premier products that stand the test of time. All ProVia products are backed with a Lifetime Warranty, to show ProVia's commitment to the quality and durability you can expect from their products.
Energy Star Rated - It's no coincidence that ProVia has been recognized by ENERGY STAR® for 14 consecutive years for sustained excellence in energy efficiency. Every step in ProVia's manufacturing process was carefully designed with efficiency in mind, to ensure their products contribute to the comfort and convenience of your home.
Variety of Styles - Not only do ProVia products guarantee quality craftsmanship and energy efficiency, but they also provide a variety of style and color choices so that your new products fit your design preferences. Elevate your home's curb appeal with ProVia's series of beautiful windows and doors.
To learn more about the Provia Windows & Doors difference, contact our team directly. We are more than happy to discuss your options to see if Provia is the right choice for your home.
ProVia Vinyl Double Hung Windows
Energy efficient, easy to clean, and low maintenance - ProVia's series of vinyl double hung windows were designed with convenience in mind.
ProVia Entry Way Doors
ProVia offers fiberglass and steel entry way doors to suit each homeowner's specific needs. Improve your home's value with a beautiful, energy efficient entry door.
Keeping Customers
Comfortable
Free In-Home Consultations
"The product they deliver is top-notch and the installation is precise. Wonderful people to work with. We've had them at our home twice already and plan to use them exclusively for all of our remaining window replacements."

"Building Envelope Experts did an outstanding job with insulation in our attic and window replacement for our entire house. The crew was courteous and knowledgeable. They kept a clean work area and got the job done on time."

"Replaced 2 windows with one awning window. Looks amazing inside and out. They were in and out including cleanup in a flash. Highly recommend."

"Excellent quality. Expert installers. Competitive prices."

"Not only have our heating needs gone down significantly, but our house is so much quieter now. My kids woke up during every thunderstorm for years and now sleep through them all!"
Start Your Home Comfort Journey
Building Envelope Experts is Here to Help